"In early 2022, Bill S-235 was proposed by Senator Jaffer at the Senate of Canada. We have always advocated citizenship to be part of permanency planning for children and youth. We're proud of the many children, youth, and young adults we've supported to obtain citizenship over the last five years, and we know there is more work to be done. This Bill provides us hope that we will be able to more quickly support all individuals who get referred to us in the future. We've been keenly observing the bill's progress in the Senate and were pleased to be consulted about this important bill with Senator Jaffer's team in May 2023 along with UNICEF Canada", said CWICE Manager Danielle Ungara.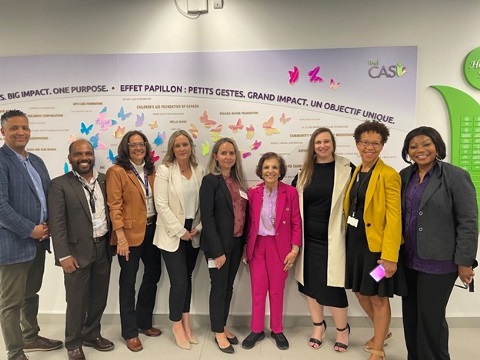 In Canada, September 8-17, 2024 marks Welcoming Week 2023. This is an important time whereby we acknowledge the contributions of refugees and immigrants to Canada. During this special time, and in collaboration with Senator Mobina Jaffer, Peel CAS' CWICE co-hosted a highly productive roundtable discussion on Bill S-235: An Act to amend the Citizenship Act and the Immigration and Refugee Protection Act.
Bill S-235 aims to provide Canadian citizenship automatically to non-citizen youth who have been in Canada for at least a year before leaving foster care. The legislation amendments also seek to stay the deportation process for individuals formerly in foster care.
The event, which took place on September 13, 2023, from 10:00am to 3:00pm in Mississauga, brought together a diverse group of service, legal, and academic partners to discuss this crucial legislation. Senator Mobina Jaffer, the sponsor of Bill S-235, expressed her gratitude for the engaged participation of attendees. Senator Jaffer emphasized the importance of collaborative efforts in advocating for the rights and well-being of non-Canadian youth who have experienced foster care.
"As Canadians, we have a moral obligation to ensure that these children are not left behind.
As Canadians, we have a legal obligation to ensure that these children are not stateless.
As Canadians, we have a humanitarian obligation to ensure that these children are not vulnerable."
Senator Jaffer reiterated her commitment to working together with Peel CAS' CWICE and the community to move this legislation forward stating, "These children are not strangers. They are our children. They have grown up in our communities, attended our schools, and contributed to our society. They deserve to be treated as full members of the Canadian family."
The bill is currently being sponsored in the House of Commons by NDP MP Matthew Green. He expressed his support for the initiative, while attending the roundtable, stating, "Bill S-235 is a crucial piece of legislation that addresses a long-overdue issue of justice and fairness for these children. Providing Canadian citizenship to non-citizen youth who have been in foster care is not just a legal necessity, but a moral imperative. I am proud to sponsor this bill in the House of Commons and will continue to advocate for its swift passage." Peel CAS' CEO Mary Beth Moellenkamp added "We are happy to support the Honourable Senator Mobina Jaffer's proposed Bill S-235, sponsored by MP Matthew Green. This will allow children and youth in care across Canada the ability to obtain citizenship, allowing them to achieve permanency and sense of belonging their urgently need and deserve".
CWICE team members Fatima Mukai, Alicja Grabarczyk, Rosario Elmy, Liz Okai and Danielle Ungara contributed their knowledge and experience, along with invited subject matter experts. Facilitated by Peel CAS' Service Director Prasad Nair, the sessions explored the impact of the proposed bill and the current needs of those receiving service. In her speech, Danielle Ungara shared, "Ultimately, we want people to understand our child and youth clients have distinct identities yet they face similar exclusion, challenges, and stigmatization both within the child welfare and immigration systems. We seek to influence decision makers to ensure children are considered in the drafting of legislation that impacts them. We strive to advocate and remove barriers daily, while witnessing our clients in situations that are untenable for them to navigate on their own or with little support. In our sector, we aim to protect children therefore we must advocate that systems evolve to ensure protection can be achieved".
CWICE Manager Liz Okai summarized the team's contributions during the roundtable, "In the past 5 years, CWICE's training for child welfare professionals has led to increased awareness and more citizenship grants for children and youth in the foster care system in Ontario. This is excellent but we should be asking what happens in other provinces? Bill S-235 provides consistency, and CWICE is happy to support this bill and we are well positioned to lead a national framework in the implementation of Bill S-235".