This past fall, CWICE participated in a joint presentation with Jewish Immigrant Aid Services Toronto (JIAS Toronto) at a national conference called Next Gen Canada: Immigration and Diversity as Pathways to Prosperity. The event was hosted by Pathways to Prosperity Canada on November 14-16, 2022 in Ottawa, Ontario. Over 500 service providers, government representatives, and researchers attended in-person, with another 500 attendees online.
As Peel CAS' CWICE Managers, Liz Okai and I held a workshop along with Laura Gold of JIAS Toronto. We spoke about the development of our organizations' partnership through 2022. Our session was titled An Unexpected Partnership: How Two Organizations Came Together to Support Unaccompanied and Separated Ukrainian Children (UASC). We spoke about the process we undertook to understand the issues facing UASC. Our work together resulted in both organizations being awarded funding from Immigration, Refugees, Citizenship Canada (IRCC). IRCC funded the organizations to study and develop a report with recommendations related to UASC.
Attending the conference was an important milestone for the UASC study and report, and for CWICE. We met people from across Canada, and many have connected with us since the conference to continue to discuss how to best support UASC.
"It was an absolute pleasure collaborating with Danielle and Liz on the issue of unaccompanied and separated Ukrainian children this past year. They, and the rest of their team at CWICE, immediately jumped in to help JIAS respond to the concerns of UASC arriving from Ukraine. CWICE did an excellent job researching and writing a report to come up with recommendations for all the different stakeholders who play a hand in serving UASC, and worked with JIAS to present those findings to many of those stakeholders. I also had the pleasure of developing a workshop, for the Pathways to Prosperity National Conference with Danielle and Liz, to share the lessons learned from our two agencies' collaboration on this issue. They were consummate professionals and made it such a positive and successful experience to co-present with them at the conference"
– Laura Gold, Clinical Manager, JIAS Toronto
Alongside presenters from across Canada - from settlement organizations to government officials - we shared our joint approach to collaboration, advocacy, and partnership. Both Peel CAS and JIAS Toronto have been providing service for over a hundred years, and both organizations have longstanding histories of service evolution and being responsive to the diverse needs of communities.
Ultimately, this was a story about sectors coming together, with the shared intention to ensure vulnerable children and youth are protected. We are proud of the impact this conference has already had and remain committed to jointly presenting with JIAS Toronto about our recommendations through 2023.
Related links:
JIAS Toronto: JIAS UPDATE: Protecting unaccompanied minors entering Canada (mailchi.mp)
About the author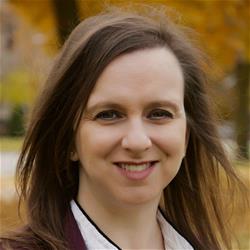 Danielle Ungara (RSW) co-manages the day-to-day operations of the Ontario-wide Child Welfare Immigration Centre of Excellence at Peel CAS. Danielle is an inclusive leader of integrity and believes in furthering social justice outcomes and equity in practice through service excellence and research.