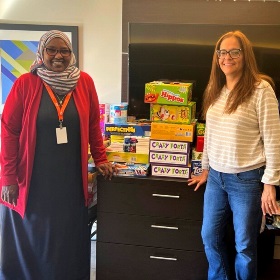 CWICE Immigration Specialists visit local hotels each month, to meet with families arriving in Canada and settlement staff. We provide presentations about child welfare services in Ontario, our agency and the Centre of Excellence, and answer questions from staff or families. This has been a wonderful opportunity to engage people in their first weeks after arriving in Canada.
As Ontario is seeing multiple, mass migrations at the same time, we've seen a drastic increase in these requests since April 2022. In addition, we've begun partnering with new organizations in response to municipalities expanding, and coordinating, services to meet demands. CWICE has a Settlement Project that is responsive to the needs of our community, including families arriving in Peel Region, child welfare organizations across Ontario, and service partners in settlement, government, or community-based organizations.
As lead of our outreach coordination with settlement staff, CWICE Child Welfare Immigration Specialist Rosario Elmy observed a need in the hotels this past fall. As there continue to be many housing challenges across the GTHA, including supply and affordability, some families have stayed longer than anticipated in hotels. Agencies providing services in hotels have been required to design additional programming to accommodate the situation.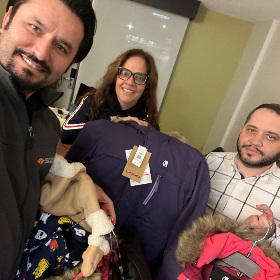 In the fall of 2022, Rosario worked with Peel Children's Aid Foundation to bring donated toys and games to several hotels, and she delivered them to our partners operating services at the hotels. In addition, in December 2022, Polycultural Immigrant and Community Services put a call out to our Peel-Halton-Toronto network partners for winter coats. They were expecting several airplanes full of people arriving without winter apparel. CWICE responded within 24 hours, and Peel CAF helped us again. They donated coats and cash used for the purchase of new coats. In the end, and within a short period of time, 19 new winter coats were gathered and delivered by Rosario Elmy of CWICE.
"Peel Children's Aid Foundation is privileged to support the incredible work that CWICE does for so many in Peel. Peel has evolved and changed and caring for a new generation of vulnerable families is a pillar of our vision for the future. Peel CAF sees tremendous impact from investing in programs that foster growth and future success. The children and youth we work with deserve the same opportunities as their peers, and it is our obligation to champion their needs. Immigration Specialists like Rosario and her colleagues always go the extra mile to meet the needs of the families they serve. Peel CAF is pleased to be able to help augment the important work that they do each day"
~Renae Addis, Executive Director, Peel Children's Aid Foundation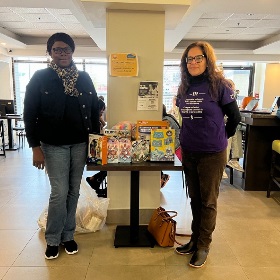 We continue to be grateful to our colleagues at Peel Children's Aid Foundation. They work with funders and donors to meet the ever-changing needs of the individuals and families we serve. We are proud of the work of our CWICE Immigration Specialists this year in greeting and welcoming hundreds of people as they transition to their new life in Canada. We thank Rosario for her leadership and taking the initiative to respond to evolving needs in our community. And we're proud to be part of the Peel Region Community, a community that collaborates to ensure children and families arriving have access to services and supports that meet their needs.
About the author: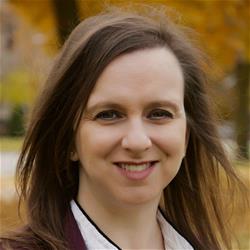 Danielle Ungara (RSW) co-manages the day-to-day operations of the Ontario-wide Child Welfare Immigration Centre of Excellence at Peel CAS. Danielle is an inclusive leader of integrity and believes in furthering social justice outcomes and equity in practice through service excellence and research.